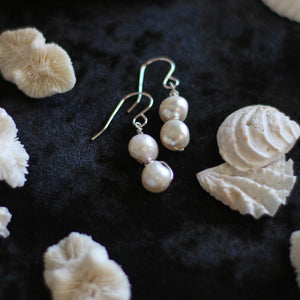 Pearls have their own fashion statement. They are elegant, simple and unique!

Being a creation of nature, each pearl as its own shape and shade colours; its own character.
The perfect gift for Mom; that rare pearl in your life! Or even for yourself, because you don't need to wait for someone else to recognize your true value and authenticity!
Material: 2 fresh water pearls, .925 sterling silver hooks and wire. Come with a silicone backing and its own paper craft jewelry box. 
Medium: wire wrapping.
Length of earring approx. 1.5'' total, (approx. 1'' of pearls)
The pearl is the queen of gems and the gem of queens. – Grace Kelly